Make sure you check out the latest podcast episode which features one of the biggest names in the lash world!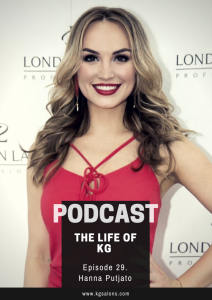 Hanna Putjato is the CEO and Director of London Lash, one of the biggest and most recognised European eyelash suppliers and training academies. Owner of the London Lash Salon, located in Central London. Hanna is a winner of numerous awards in Professional Beauty Industry, including Professional Brand of the Year 2016 and 2018. Winner of CEW Digital Marketing Achiever Award (awarded by Google) She is also a judge of many international Eyelash Competitions, speaker at the Eyelash and Beauty Conferences around the world.
Thinking of doing lash training? 
Have you checked out our training dates? We now have Saturdays available. Also, the next advanced/super volume lash course is on Wednesday 29th January. Hosted by the CEO of the KG brand Katie Godfrey. This is the perfect course if you want to take your lash game to the ultimate level!